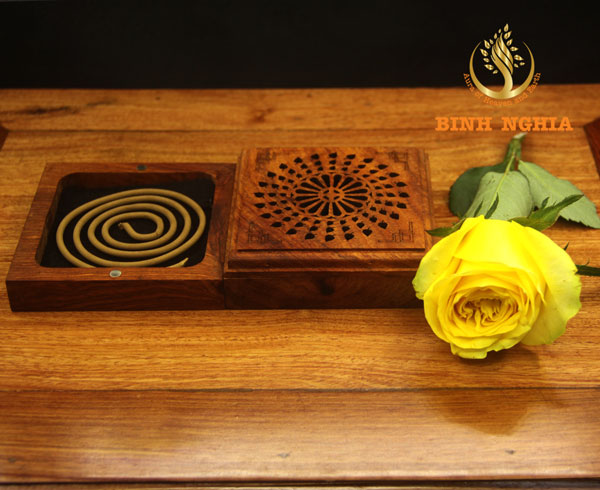 Agarwood incense is always chosen by people because of its special spirituality. They not only show respect to ancestors, but also help to make the living space more cozy. Moreover, the gentle aroma helps relieve stress for the homeowner. So what are the types of incense from frankincense? Explore the details with Binh Nghia through the article below.
Types of incense sticks that Binh Nghia is distributing:
Buds shape Agarwood incense:
Agarwood incense is a type of incense made from pure agarwood powder combined with some natural ingredients. Each piece of frankincense will be ground into a fine powder and mixed with acacia of natural trees to create adhesion. From this mixture, staff will mold the agarwood buds into cylindrical, lotus or pyramid shapes.
Quality agarwood buds are a product of 100% genuine agarwood, no chemicals, so it is good for health and does not cause allergies. Because currently agarwood has a high value and is difficult to exploit, the price will also be quite high. Pure agarwood incense sticks will have a long-lasting scent, about 2-3 hours.
Tower shape Agarwood:
This type of bud is pyramid-shaped, smooth or bordered around the body of the incense. The effect of tower incense is to help the business and work space be purified, clean and fragrant. Thereby helping the owner's business become more convenient and smooth.
Lotus flower bud Agarwood incense:
This type of incense has the shape of a lotus bud. This is an incense bud often used in the art of rewarding agarwood to increase aesthetics. When burned and used with a smoke waterfall, it will create a beautiful and fanciful miniature. Each white smoke gently flowing down the waterfall looks like an endless stretch of soft clouds.
Clean incense sticks:
Agarwood incense sticks are also made from compressed high-grade agarwood powder. This item is the most commonly used and commonly used item. The process of making and producing incense sticks with toothpicks is quite complicated and elaborate. The incense is fixed by bamboo toothpicks, so it is very easy to use. Agarwood powder needs to be 100% natural and pure, without crumbs, sand, etc. to produce the right product.
Normally, items from incense sticks with toothpicks will be used to light the altars of ancestors, local gods, and Buddhas used by the user.
Beautiful skin: Agarwood contains strong oxygen and has anti-inflammatory properties, against factors that form inflammation. You can use natural frankincense incense to steam it will help improve the skin. Besides, it also prevents acne-causing bacteria, brightens the skin and protects the skin from the effects of ultraviolet rays.
Good for the digestive system: The digestive system plays an important role in the body. Frankincense is very good for laxatives, diuretics and limiting diseases such as bloating, diarrhea, and flatulence.
Provide fresh air: Indoor frankincense helps to improve air quality. Brings a fresh, pleasant atmosphere and completely resists toxic gas and is highly effective in repelling mosquitoes and insects.
Reduce stress: Inhaling frankincense in the bedroom will make you relax after a tiring working day, control anger and frustration.
Incense incense in terms of spirituality, feng shui
The incense sticks are the traditional beauty of Vietnamese culture in rituals and worship. On special occasions such as weddings or grand openings, incense sticks must be lit. What benefits does agarwood incense have that are so widely used and popular?
Incense in each special occasion has different meanings. However, they all have the value that is to show the owner's respect for grandparents and ancestors in the afterlife. Wishing that grandparents can see their children and grandchildren in the next life is always peaceful, cheerful and happy.
Besides, during Tet holiday, lighting, burning or burning incense also becomes a cultural beauty containing many spiritual elements. Because frankincense is likened to a precious item that gathers prosperity, the quintessence of heaven and earth, possessing strong yang energy. Therefore, on the last days of the year or the first day of the New Year, each family will use incense to drive away evil spirits and bring good luck. This makes the family feel secure and comfortable because fragrant incense will bring good luck and good fortune in the life of family members.
Summary of frankincense incense
In short, the above is all the information that you should know about incense. Surely through the above article you also partly understand what is the effect of incense, right? However, you should use the right purpose, role as well as use the appropriate tools. Good luck dear customers.
Welcome to Binh Nghia Company
Binh Nghia Co., Ltd. is one of the leading agarwood production companies.
Now over decades of experience Binh Nghia Co., Ltd. has become one of the world's leading Oud producers.
Our products are 100% organic. Our factory is the largest in Vietnam for the production of agarwood. We specialize in this field for 40 years and the stability of raw materials for production is of good quality and quite competitive.
We are proud to be the leading manufacturer and supplier of Agarwood / Oud Oil, Chips, Incense, Resin, Sanai, Powder and Accessories. Our Agarwood has been on the worldwide market since the 1980s and we have brought much more Scent of Vietnam to every corner beyond the Middle East. It is our great honor to be part of your precious culture in every moment of life, and your precious health benefits as well.