Agarwood formation is a fascinating and intricate natural process that occurs within the heartwood of Aquilaria trees. This process results in the creation of Agarwood, a highly prized resin with unique aromatic properties. Understanding the natural process of Agarwood formation provides insights into the factors that contribute to the development of this valuable substance.
The natural process of Agarwood formation begins when an Aquilaria tree is subjected to various stimuli or injuries. These stimuli can include physical damage to the tree, such as wind, lightning strikes, or animal grazing, as well as environmental stresses like drought, excessive sunlight, or temperature fluctuations. These triggers prompt the tree to initiate its defense mechanisms, leading to the production of Agarwood.
When an Aquilaria tree is wounded or stressed, it responds by releasing resin as a protective mechanism. Initially, the resin is colorless and odorless, but over time, it undergoes chemical transformations that result in the formation of Agarwood. The resin gradually accumulates and saturates the affected areas of the tree's heartwood, leading to the distinctive dark resinous deposits that characterize Agarwood.
During the process of Agarwood formation, various biochemical reactions take place within the tree. The resinous compounds present in the heartwood undergo oxidation, polymerization, and other chemical transformations, resulting in the development of complex aromatic compounds that give Agarwood its unique fragrance and properties.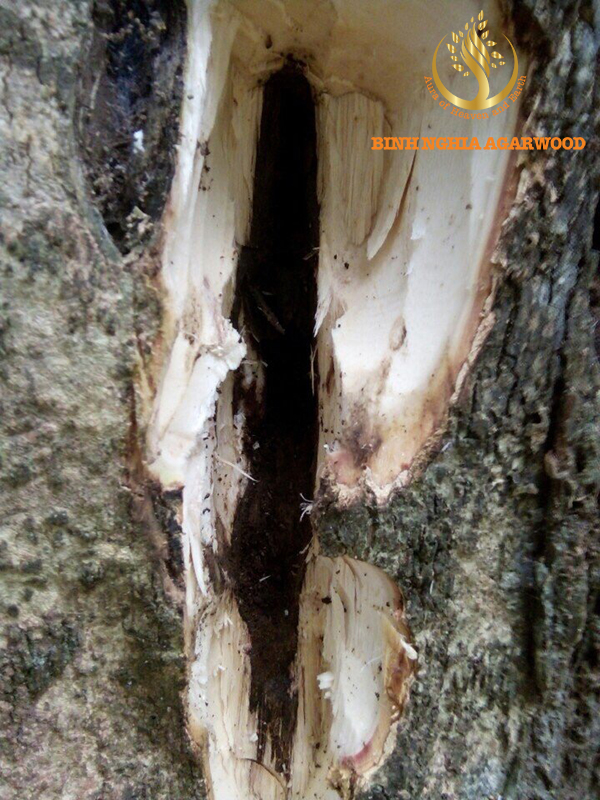 The duration of the Agarwood formation process can vary significantly, ranging from several months to several years. Factors such as the severity of the injury or stress, the species of Aquilaria tree, and environmental conditions can influence the speed and extent of Agarwood formation.
It is important to note that Agarwood formation does not occur in every Aquilaria tree, and the capacity to produce Agarwood varies among different species and individual trees within the same species. This natural variability contributes to the diversity and uniqueness of Agarwood in the market.
In recent years, there have been efforts to understand and replicate the natural process of Agarwood formation through artificial methods. These methods aim to stimulate the production of Agarwood in a controlled and sustainable manner, reducing the dependence on wild Aquilaria populations and ensuring the conservation of this valuable resource.
Understanding the natural process of Agarwood formation provides valuable insights into the complex interactions between Aquilaria trees, environmental factors, and the resinous compounds that contribute to the development of Agarwood. This knowledge serves as a foundation for further research, cultivation practices, and conservation efforts related to Agarwood production.