Surely your foot this month or even this week led you to a famous perfume store to order one of the special types of oud incense. And I wanted to know more about the Muhassan Oud.
Certainly, you stepped foot and was fascinated - first of all - by the striking luxury, and the distinctive aromatic scent, then what is more beautiful and impressive: the various types of incense of oud that you see in front of you, and you do not know how to differentiate between them.
Perhaps it does not mean much to you to differentiate between these types - with their different names and sources - as much as you want to know which is the original type in which you should spend your money, and which is the fraudulent type.
Or let us say which one is a high-priced, original natural agarwood (i.e., it is worth its price), and which is the Muhassan agarwood that deserves a good price and good quality.
In this article, we will make sure that next time you enter the perfume store at a confident pace, knowing what you want, and how to get what you want without being deceived.
What's Muhassan Oud?
Before we talk about oud Muhassan and the meaning of the word oud Muhassan in the first place, let us first get to know the natural oud. You will not know refined agarwood unless you know what natural agarwood is first.
What is natural agarwood?
The term natural agarwood refers to the incense wood of agarwood that is extracted from the agarwood trees planted - naturally - in the forests of Southeast Asian countries.
The high-value incense sticks represent the infected part of the agarwood tree, which has been infected for a period ranging from 70 to 150 years or more.
It is from the nature of the agarwood tree that if it suffers an injury to its trunk due to the claws of animals or natural conditions, it secretes a natural substance that resists that injury.
And by treating this injury, it turns into a color darker than the natural color of the tree trunk. It is these affected parts that are extracted as one of the most luxurious incense sticks in the world.
The trunks of these long-lived trees are cut, and then the affected parts are separated from the healthy parts manually by skilled workers, using sharp tools that help them accomplish this process.
This is how natural agarwood is extracted. What is the oud Muhassan?
What is the difference between natural oud and oud Muhassan?
The natural agarwood is extracted from natural wood, where the agarwood is extracted from the agarwood trees and is used without changing anything of its color or smell or adding any new component. Natural agarwood is characterized by its bladder and heaviness, and its prices vary due to its different grades, types and shapes.
These scents of pure incense sticks are widely used in the month of Ramadan, holidays and weddings.
As for the improved agarwood, it differs from the natural agarwood because it is a medium-quality, weak-smelling agarwood that is cleaned and its smell is improved by adding agarwood oil or a substance similar to the smell of agarwood called ricin.
It is used for daily use and to perfume homes, wedding halls, events and mosques in abundance because of its competitive price for natural oud
Meaning of Oud Muhassan?
Al-Oud Al-Muhassan means the incense of the agarwood that has been produced artificially. It was called improved because it was ordinary wood, then some improvement procedures were applied to it that made it an aromatic incense similar to natural incense of agarwood.
Why is Oud Muhassan made?
Oud enjoys a special place for the Arab user, especially the Saudi user. It is considered an essential part of the daily life of a Saudi citizen.
It is used as a perfume for his clothes, and incense in his house, and he uses it after bathing, and on holidays, weddings, public occasions, guest houses, and others.
Because of this popularity and this spread, the oud occupies an essential part of the family budget in spending as well as food and drink.
On the other hand, due to the difficulty of obtaining the original species so that there is no uncontrolled cutting of trees, the original agarwood has become so rare and expensive that only the rich and the princes can buy it.
As well as the scarcity of natural agarwood compared to what is required in the market, prompted traders to make an improved oud, which is very similar to the original oud, but differs from it in its affordable price for any user, and its effect is good, especially since it was made with the addition of natural aromatic substances.
How is Oud Muhassan made?
First: The wood to be prepared is cut into an improved agarwood into small pieces approximately the same in size, in order to equalize the saturation of the aromatic substance during cooking once on the one hand, and ease of transportation and storage on the other hand.
Where does wood come from? Or what kind of wood is used in this process?
There are two main types of wood:
The first type: It is a non-aromatic or poorly aromatic agarwood tree. This type is distinguished by being originally from the agarwood tree, so you find its attractive shape reminiscent of the original agarwood.
The second type: It is ordinary tree wood of any kind, but it is cut in a certain shape and almost the same size for the previous reasons. This is done by skilled workers, who cut the wood by hand from specific parts that have many pores, which absorb the aromatic substance during the cooking process, so that the wood turns into Oud Muhassan.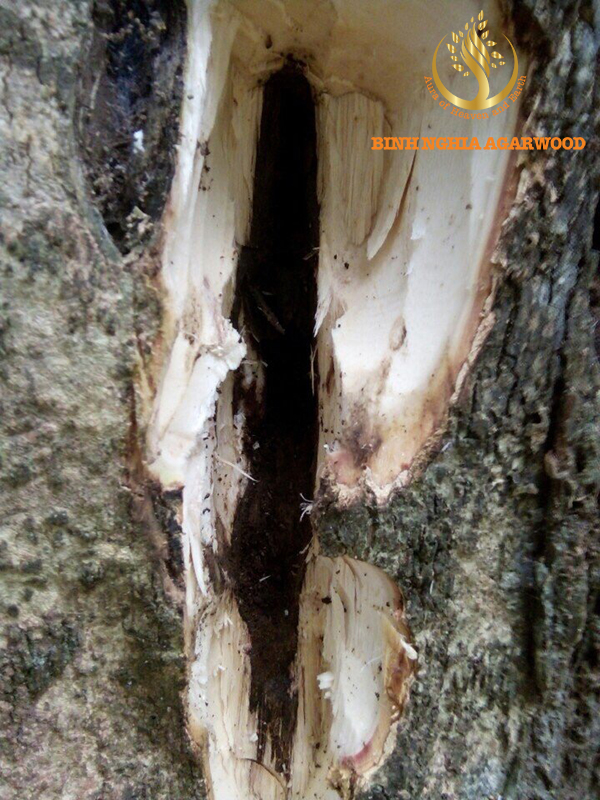 Binh Nghia - The leading factory producing and supplying agarwood
Enjoy shipping from warehouse
Wholesale for Agarwood
Direct Factory Sale: +84.936.321.239 (WhatsApp)
Email: sales@agarwood.vn
Website: https://agarwood.vn